Ferro Talks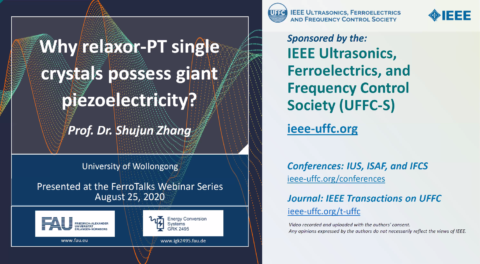 FerroTalks Webinar Series
In order to stay connected within the ferroelectrics community during these extraordinary times, Prof. Kyle Webber, as the Tutorials and Education Chair of the Ferroelectrics Standing Committe of the IEEE UFFC and the director of the GRK2495, has organised a bi-monthly webinar series on various topics related to the processing, characterization, structure, or modeling of ferroelectrics. Every two weeks a short tutorial (approximately 15 minutes) will be held live via Zoom by various leading experts from around the world, followed by an open discussion and question/answer session.
May 19 – Andrew Bell (University of Leeds, UK)
How are the Electromechanical Properties of Ferroelectrics Interrelated?
June 2 – Susan Trolier-McKinstry (The Pennsylvania State University, USA)
History of ferroelectricity
June 16 – Roger Whatmore (Imperial College London, UK)
Pyroelectric Materials and IR sensing
June 30 – Brendan Hanrahan (U.S. Army Research Laboratory, UK)
Pyroelectric Materials for Energy Harvesting
July 14 – Marco Deluca (Materials Center Leoben Forschung GmbH, Austria)
What can I learn about ferroelectrics with Raman spectroscopy?
July 28 – Dragan Damjanovic (EPFL, Switzerland)
Piezoelectric relaxation
August 11 – Paolo Colombo (University of Padova, Italy)
3D printing of ceramics
August 25 – Shujun Zhang  (University of Wollongong, Australia)
Why relaxor-PT single crystals possess giant piezoelectricity?
UPCOMING
September 8 – Wook Jo (Ulsan National Institute of Science and Technology, South Korea)
Lead-free piezoceramics and what more?
September 22 – Neus Domingo (Catalan Institute of Nanoscience and Nanotechnology, Spain)
The adsorbates on Ferroelectric Surfaces: those long-ignored neighbors
October 6 – Jacob Jones (North Carolina State University, USA)
Quantifying domain wall contributions to properties using X-rays
October 20 – Manuel Hinterstein (Karlsruhe Institute of Technology, Germany)
Structure-property relations in ferroelectrics
November 3 – Dragan Damjanovic (EPFL, Switzerland)
Piezoelectric relaxation
November 17 – Jürgen Rödel (Technische Universität Darmstadt, Germany)
Ferroelastic toughening in ferroelectrics
For more information about how to join the webinar, please contact Julia Berger.
Once the videos have gone through post-processing, they can be viewed here.